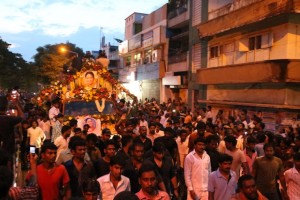 The funeral procession of actor Manorama who passed away on Saturday was taken through Mylapore's Dr Radhakrishnan Salai on Sunday evening since the family was keen to have the cremation at the Mylapore crematorium behind the TN Police Headquarters in Mylapore.
It is said that though the indoor and outdoor crematoriums are not in use now for various reasons, a request was made by the actor's family for personal reason, and the state facilitated the cremation that took place after dusk.
The actor lived in T. Nagar.