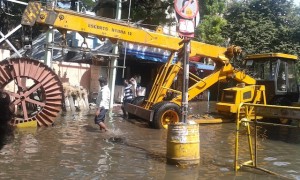 The Housing Board zone – the neighbourhood that lies between Kamaraj Salai, Srinivasa Avenue and R K Mutt Road – was among the worst hit colonies by the monsoon fury. And its residents have had to bear the agony much after the heavy rain stopped.
On Saturday, following the severe flooding which forced ground floor apartment residents to abandon their hearths, state agencies dug up Kamaraj Salai and laid two large pipes at two points – in a bid to drain the water into the Canal.
Residents said this has not helped – for Monday's rains flooded the area all over again.
On Tuesday, as the sun came out teams of civic workers deployed pumps to draw off the floodwater.