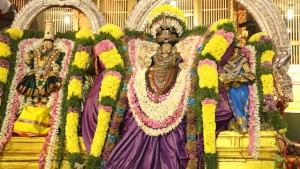 Over 1000 people gathered on South Mada Street on Wednesday evening to take part in the Karthigai Deepam festival at Sri Velleeswarar Temple here.
The gopurams of this temple were illuminated and a huge mass of dry leaves was raised in the middle of the street and this was lit with the sacred fire brought from the temple by priests.
A procession followed.
Similar celebrations were also held in other Mylapore temples.