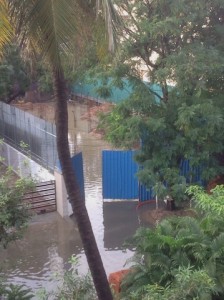 Sharanya Vishwanathan reports from R A Puram's 1st Main Road on the serious issues caused by the monsoon –
I am residing in 1st Main Road, R.A.Puram (Surya Sweets stretch)
For the third time, our street has been inundated with water, creating a new island. On 13th, 16th and 23rd November, rains lashed heavily and flooded our street.
On 23rd November, the day time was sunny, and it started to rain at 4 pm and till 5.30 pm the road was okay. Then, within half an hour, the water level in the street rose upto knee level.
The two wheelers and cars parked in the apartments campuses and streets were half immersed in water.  A few cars parked in the street had their orientation changed due to flood. The rain poured continuously till 9 pm.
The lift, power supply room, motor room . . . were all flooded with water. Pumping water for domestic purposes was an ordeal and at times we were unable to pump even though power supply was there, because of the stagnant water.
Last week, the Corporation teams pumped out the stagnant water, as a result of congested storm water drain, using a diesel pump. We hope this will be done when it rains heavily.
Water from Boat Club Road, Chamier's Road, Crowne Plaza Hotel area flows directly to our road. If the water is drained in those areas itself, it will be of big relief.
Right now only one storm water drain, at the entrance of our road, near Titan Eye Opticals store is able to drain the water, if pumped using a motor pump. All other drains are clogged.
Residents want the civic body to check the drains for congestions – do this when the rains stop.
Another important issue to address – while re-laying roads, please ensure that the existing road is scrapped. If not, the road height will go up and when it rains, water will run in.
People like us who built apartments some three decades ago are now suffering – we must be saved this agony.
Some months ago,  our street was re-laid in a single night, without scrapping the road.
Photo by Sharanya Vishwanath.