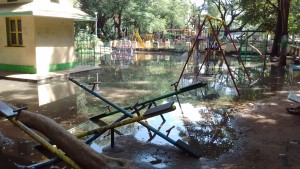 This is a picture of the childrens play area at Nageswara Rao Park in Luz which has been flooded by the rains. The play ground lies submerged in water and the walk ways are also inundated. This condition of the park discouraged the morning walkers who have to be here for their walks.
A few trees have either fallen down in the park or bent by the rough wind.
On Tuesday morning, some children from the local colonies made good use of the flood water and swam in the small pools.
Pictures by R. Saravanan