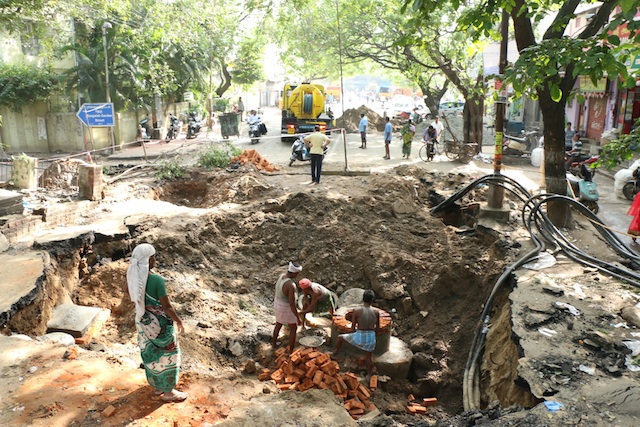 The section of P S Sivaswamy Road outside the local Metrowater unit here which caved in because water leaked from the unit's pipes seems to be a bigger issue – and fixing this problem will take a few days, say workmen at the site.
The entire section of the road – from one pavement to the other pavement opposite it – has been dug up. Workers have attendant problems to tackle – many power, sewage and other lines that have been laid here have to be attended too as the leaking pipes are attended to.
The sunny days are helping work to go on at a steady pace.
The road caved in because of the seeping water.
The road ( from the gate of Vivekananda College campus end to R H Road end) remains closed now and will be so for next 3 days.
Hence, traffic has been diverted towards Dr R K Salai from the Vivekananda College side.
TRAFFIC ALERT –
Those who take MTC buses moving outside of Mylapore at the bus stop on R H ROAd will have to stand at a temporary stOP created outside Ramakrishna Mission Students Home campus.Private cars/bikes are diverted towards Dr R K Salai.
Traffic headed to Royapettah has to take Dr R K Salai, make a U turn at Music Academy junction.