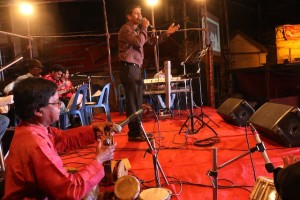 Close to 2000 people sat through the finale of the 2016 edition of Sundaram Finance Mylapore Festival – a three hour long concert of the golden hits songs in Tamil cinema composed by the celebrated composer M S Viswanathan.
When the curtains came down at 11.20 p.m. there were still 400 people in the audience and asking for more. C A Raja and his singers and musicians belted out MSV's hits of the 1950s, 60s and 70s in a  dedication to the man who lived in San Thome and passed away last year.
Through the evening in the Sannidhi Street square zone, events rolled on from 5 p.m. and at least 10,000 people must have visited the place.
The second of the kolam contests was held earlier – on North Mada Street in which 90 plus people took part and 15 winners were chosen.
The streets became a hawkers zone as people set up stalls to sell all kinds of stuff.
The annual four day annual celebration of arts, culture, kolams and everything traditional is held every year on the eve of the Pongal festival and is wholly funded by Sundaram Finance.
Enjoy the series of pictures of the Fest at https://www.facebook.com/mylaporefestival/