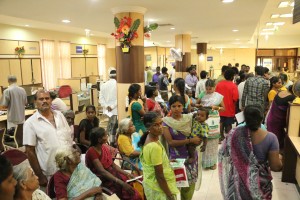 The state government recently released a flood relief amount of Rs. 700 crores for 14 lakh families. The amount was directly credited to the bank accounts of the beneficiaries. As soon as this announcement was made, people rushed to banks to withdraw this amount.
At Indian Bank on North Mada Street, Mylapore long queues were seen both inside the bank and outside at the e-lounge. The senior manager and assistant branch manager Sudhanshu Shukla says, "More than a 1000 people withdrew cash from the bank on Tuesday (Jan 5). Several of them did not have ATM cards and used their pass book to find out if the amount was credited to their accounts".
Several steps are being taken by the bank officials to regulate this rush. "We are expecting this crowd till pongal and have stocked our ATM's with sufficient cash. Our staff also conduct regular checks to ensure that the machines are working well. Those who use the pass books to withdraw money can get their entries updated immediately", adds Sudhanshu.