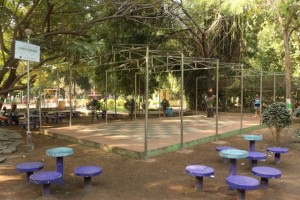 The 'mike-less' concerts in Nageswara Rao Park were first curated for the Sundaram Finance Mylapore Festival. They featured very young artistes and the soft music upped the quiet ambience at this popular park.
Sundaram Finance picked up the thread and has continued for many years the 'mike-less' concerts, held on the first Sunday of the month, come rain or shine – and soon this series may well make it to the Indian Guiness Record.
But the deluge of December 2015 also sank the park – over time many shrubs died and some areas were clogged with muck and waste. It has taken some time for the park to liven up and hopefully, it will look fresh and green in the weeks that follow.
The Chess Square area where the morning kutcheris are held – Jan 7 to 10, starts 7 a.m. – is neat and clean. Hopefully, many walkers and fitness enthusiasts will stop by to listen to the music. The concerts are for an hour.