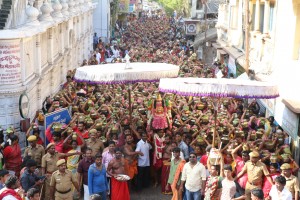 Preparations are on for the Panguni fest at Kapali Temple. One of the rituals to be done is the procession of milk pots.
The '1008 paal kuda vizha' was celebrated this Sunday, Feb 28. The pots were taken from Kapali Temple to Kolavizhi Amman Temple, Mylapore. The pots were carried by women.
Abhishekam was then performed to Kolavizhi Amman.
The annual Panguni fest at Sri Kapali Temple begins on March 13.