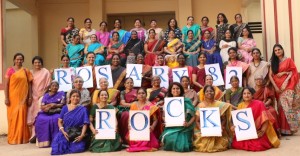 Feb 13. An unforgettable day for the 1982 batch of Rosary Matriculation School, San Thome. For the girls, emotions ran high. The alumni meet held at their school brought back nostalgic memories – the stairs, the ground and the classrooms came alive once again.
'Kudos to technology', says Uma Swaminathan, an alumni. "Without whatsapp I dont think this event would have been possible'. About a year ago, a few members got in touch with each other and decided to get the whereabouts of their classmates. Soon, 50 members joined their whatsapp group. They decided to meet and what better place than their old school.
Each of them contributed about Rs.1500 towards this event. They managed to located 12
teachers who lived nearby and honoured them with gifts and a picture of the group. Titan
watches were gifted to Sister Celine Xavier, the principal at that time and the current
principal Sister Mary Zacharia.
Uma cannot forget the grand staircase at their school. She says, "When I studied,
teachers used the left side of the staircase and students used the right side. I remember
the times when the naughty girls would dash across to the left side and would get
reprimanded for it. This time, we walked on the left side much to the delight of the
teachers.
Another alumni, Uma Ashok, remembers the time when they had to enter the school through
Papanasam Sivan Salai or 'Palace Road' as it was called in those days. She says, 'The
entrance through San Thome High Road, opposite St. Bedes School, was not our main
entrance when we studied. Though that entrance was functional, it did not have the huge
board with the name of the school".
The event ended with hugs, smiles and promises of many more meet and greet sessions in the future. Alumni can contact rosary82reunion@gmail.com for more details.