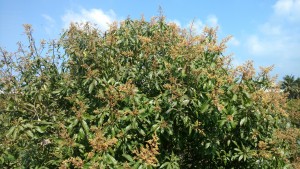 It is mid-February; the mist hangs around till 8 a.m. And the sun seems sharp through the day.
The trees and plants also seem to be taking on a different look.
Look around you and you may have noticed that the first mango blossoms are starting to show up.
This photo, of a mango tree in a house on Luz Church Road, is full of flowers.
Do you also have a mango tree in bloom? Shoot a photo and share it at – mytimesedit@gmail.com