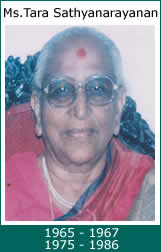 Tara Miss, we will miss you dearly – Vidya Mandir Batch of 1983.
Thus ran a legend in a  small advert that ran on page 6 of The Hindu on February 3 morning.
By that time, many alumni of the school in Luz who studied here in the mid-70s and 80s had got to hear the sad news – the passing away of Tara Sathyanarayanan, a legend on the Vidya Mandir campus. She was principal here twice – from 1965 to 1967 and then from 1975 to 1986, a long innings indeed.
During her time, say alumni students in senior classes held her in high esteem and that she stood levels ahead than anyone else in the faculty of the time.
With Tara Sathyanarayanan's passing, Vidya Mandir's alumni remembers two giants of the campus who have passed on – the other being Alamelu Gopalan, who passed away last year.
After her retirement from Vidya Mandir, Tara served on the board of Bala Vidya Mandir and at other city schools.
Photo courtesy; Vidya Mandir web site