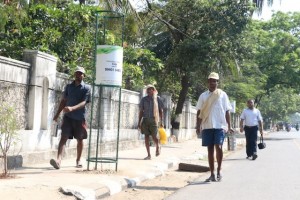 Residents of Mandavelipakkam and San Thome say that the Chennai Corporation's plan of planting saplings on the pavements of San Thome High Road is a bad idea.
They say that these saplings and their protective guards have taken away the walking space on the narrow pavements.
The saplings seem to have been planted a month ago by a private agency – the agency has displayed its name on the tree guard and seeks adverts to be displayed on the guards.
The saplings have been planted from the Adyar Poonga end to the San Thome Cathedral end, on both sides in many places. Planting on pavements is a idiotic idea, said one resident.