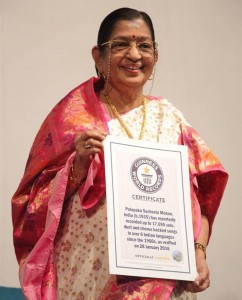 Singer P. Susheela has recently been recognised by Guinness Book of Records for singing the most number of songs in Indian languages.
'Pulapaka Susheela Mohan, India (b. 1935), has reportedly recorded up to 17,695 solo, duet and chorus backed songs in over 6 Indian languages since the 1960s, as verified on 28 January 2016' says the award.
Susheela has been associated with south Indian cinema for over six decades. She is the recipient of five National awards and many state awards. She received the Padma Bushan award in 2008. She has recorded songs in various Indian languages including Telugu, Tamil, Malayalam, Kannada, Hindi, Bengali, Oriya, Sanskrit, Tulu and Badaga.
Susheela studied in Maharaja Music College in Vijayanagaram and passed her diploma. She later joined the Sangeeta Academy, Chennai under the guidance of Subramani Iyer and completed her Graduation in Music.
In 1950, music director Nageswara Rao was looking for new talent and scouted for new singers at All India Radio. Of the five people referred, Susheela was selected and sang her first song, a duet with A. M. Raja – 'Edhukku azhaithaai' for the movie Petra thaai. ('Kanna thalli' in Telugu)
She is a resident of Alwarpet.