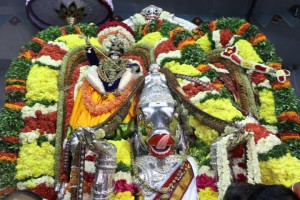 It is 10.30 a.m. on Wednesday, March 16. It is the day for
Adikara
Nandi
– the third day of the Panguni festival at Sri Kapaleeswarar Temple, Mylapore. The deities, decorated with silk clothes and huge garlands have crossed East Mada Street and have come to a halt outside Vasantha Bhavan on South Mada Street.
There are devotees everywhere, more than 3000 of them. While some queue up near the diety with outstretched hands to receive the vibuthi prasadam, others with folded hands wait at a distance hoping to get a better view when the vahanam moves forward.
Near the deity, J. Sivaravi, a devotee, is handing out small pieces of paper. "How long will the people hold on to the vibuti given to them", he asks, "Give them a piece of paper and they can take it home to the friends and relatives".
Every 100 yards, there are a group of people distributing bananas, buttermilk and badam milk. Ramya. M, Kokila. S and Kamakshi. S, all residents of Mylapore, are distributing home made buttermilk in small paper cups outside the hotel. They call out to those who pass by them to come and drink a little. "We have been doing this for more than five years", says Ramya, "It is really hot and quenching the thirst of the devotees is the least I can do during this festival", she adds with a smile.
The music from devotional songs and the noise of hawkers selling their wares fills the air. The ones selling small showpieces, balloons and paper windmills walk along with the vahanam while the vendors selling vegetables, cucumbers, coconuts, flowers and hand made paper fans have settled in on both sides of the street.
A little away from the vahanam, devotees are breaking coconuts on the hot tar road, offering milk and bananas and burning the camphor for the aarti. Lakshmi, a devotee says, 'It is really crowded near the diety. I have no hope of offering anything there. So I decided to do it here".
A group of boys are taking rest on the wooden plank at the back of the vahanam. "We helped pull the vahanam and now need a little rest", says a 12 year old. A much needed break.
Soon, the vahanam moves on. A few hundred devotees move away and a few more join.