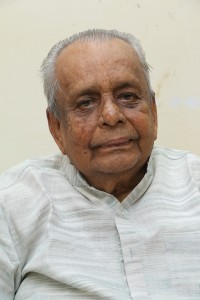 When Siddharthan's Tamil book on the celebrated emperor Asoka was released some years ago, it made an impression on readers of historical fiction.
Recently, the English version of the book, 'Samrta Asoka' was released by former union minister P. Chidambaram.
Mylapore resident Siddharthan attributes his interest in historical novels to tyhe works of writer Kalki. He also mentions writer Rajam Krishnan. "While writing on Ashoka I traveled to many places in India …to Sanchi, Patna, Gaya and Srinagar and also to places in Sri Lanka to collect material for the book," says Siddharthan.
He worked on the novel for five years from 2008 and then undertook the job of translation himself.
Siddharthan has written over 50 books, in various genres like children's literature, travelogues, poetry and fiction. Most of his works are in Tamil.
Now, writing in English seems to excite him.  "The reach of such books among readers in wider,"he says.
He is now in the process of releasing the English translation of his first Tamil novel Yaadhum Oore. 'This book follows a family of artistes during the Sangam period as they travel along the Kaveri and meet different patrons and perform at different villages.  "It provides a window to the life and customs of the Sangam period people," he adds.
The writer is at C vikas apartment, 19/8 Balakrishna Street, Mylapore. Phone: 24980024, 9444969778.