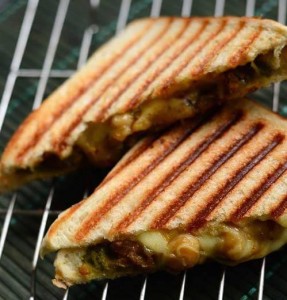 Want a quick bite to eat and don't want to feel guilty about the calories? Stop by Royal Sandwich Shop. There are quite a few of them – one on T. T. K. Road (Opp. Spoonbill) and on St. Mary's Road (Near T. T. K. Road junction). A new outlet of the shop, named Sandwich Square, is now open at Poes garden, on Seshathri Road too.
The shop was started by Sheik Dawood in 1999 as a modest sandwich outlet – bread-butter-jam and bread omelette was the main fare. Now, there are 4 outlets and many franchisee openings of the popular sandwich brand.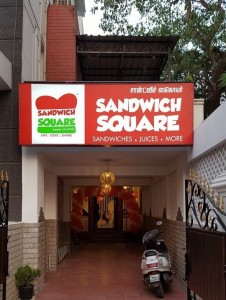 It is mostly college students who flock here – to grab a filling meal on the go, without hurting the pocket too much. The place is bustling with youngsters during the open hours. The shop also offers a varied fare – corn and spinach sandwich, vada-curry cheese toast and chocolate toast. More than 143 varieties of sandwiches are offered here with vegetarian and non-vegetarian options.
You don't have to go looking for desserts else where – ice cream sandwich is on the menu too! A variety of crushes, milkshakes and juices are also available.
Next time, when looking for something quick for lunch, look for a Royal Sandwich.