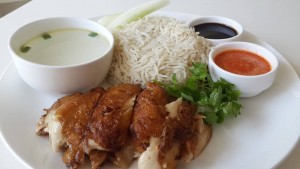 Tuk Tuk Asia is located off T. T. K. Road. Tuk Tuk is based like a traditional coffee shop in South east Asian countries and serves food from these places.  The menu changes often, so you never know what you are going to get until you step in.
Tuk Tuk also has a very different offer for lunch, one that is most appealing for young working people, who can't take a lot of time away for lunch – the 'bain marie' combo. Pick the combo you want, fill up a bowl with as much as you want, pack it and get it delivered to your office. You can call in your order to the restaurant for them to deliver it to your address. The bain-marie combos vary daily and the menu is updated on their FaceBook page.
Tuk Tuk Asia is located in the same space as Cupcakes Amore. So after eating your lunch here, you can stop by there to pick up your desserts.
At 16,T. T. K. Road, Seethammal Extension, Alwarpet. Ph:  24360108