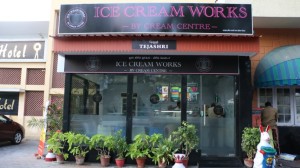 There is a new place to get cool desserts this summer – Ice Cream Works – by Cream Center. The shop is part of a franchise which is popular in Bombay and makes it first appearance in our city now.  The shop is located inside the New Woodlands hotel complex.
The store different ranges of creams – hand made (mainly fruit based), dark (mainly chocolate based), premium range ( mix and match) and a whole range of cassattas.
A ball of ice-cream, studded with pieces of fruit or chocolate chips or nuts – now that is a great way to pass time this summer ! Stop by to pick your favourite.
The ice creams are all vegetarian and are shipped from Bombay twice a week.