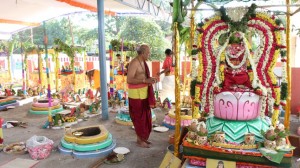 The final homams are taking place at Sri Virupaksheeswarar Temple, Mylapore in preparation for the kumbabhishekam which is scheduled to take place tomorrow morning (May 11) at 6.30 a.m. More than 2000 people are expected to visit the temple tomorrow and preparations have been made to accomodate them.
T. Chandrasekar – the executive officer of the temple says, "We have made arrangements to distribute water bottles to the devotees. Electricity Board officials have been informed and uninterrupted power has been promised. We also have a generator for back up. Other authorities – the police and the fire service  have also been informed. Insurance has been taken for the temporary structures put up for the kumbabhishekam".
Arrangements have been made for free darshan only. In the evening, archanai tickets will be sold for Rs. 5.   The temple is located at Bazaar Road, Mylapore.