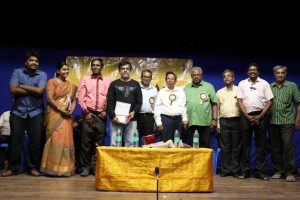 The awards distribution function of the 27th Kodai Nataka Vizha hosted by Kartik Fine Arts was held on the evening of June 1 at the Narada Gana Sabha, Alwarpet.
Twelve troupes presented new plays at  the twelve day long fest conducted from the 22nd of April to the 3rd of May.
Dr. Aravindan Selvaraj, Executive Director of Kauvery Hospital was the chief guest at the function. The much anticipated ' Kartik Ramanujam Award of Excellence ' was given to veteran actor Delhi Ganesh.
Among Mylaporean artistes who got recognized was Suchitra Ravi; she was given the best character actress trophy. Kathadi Ramamurthy's play was counted as second best production though there was no award.
Kartik Fine Arts contacts :2499 7788, 2495 2695
Photo is of the group which got best production award.