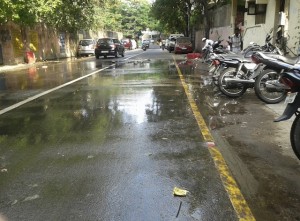 Sewage water was seen flowing out of sewers and on to Karaneeswarar Pagoda Street in Mylapore on Sunday.
The manhole outside the Chennai Higher Secondary School started overflowing 
on Sunday noon and p
edestrians as well as residents here had to bear the strong stench.
The road is frequented by school-going children as well as those who visit the St.Bede's playground.
The street is comparatively at a lower level than the surrounding streets.
Residents said that the condition here is worse during the monsoon season.
– Report and photo by Antony Deepak Raj