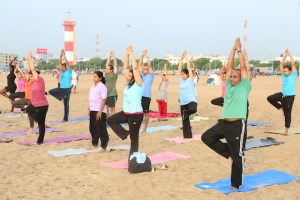 There was yoga on the sands and music in the park; a bunch of events which unfolded this morning to mark International Yoga Day and World Music Day.
A few hundred people gathered on the Marina beach sands behind Gandhi statue, unfolded their yoga mats and went through the asanas. Some had gurus to guide them.
The Marina greens are often dotted with people who do yoga everyday but today, the numbers were large.
Out at Nageswara Rao Park, Luz choir music guru Sudha Raja guided her choir of young voices at the Chess Square to let the music float around as the daily walkers sweated it out on a  fairly pleasant morning.
Later, wellknown Carnatic music artistes like Sudha Ragunathan, Dr Ganesh, the Carnatica Brothers, Bharat Sundar and Vishnudev sang too.