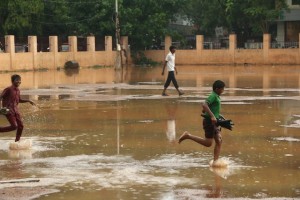 The post afternoon rain in the city threw up some of the bugging civic problems that affect parts of the neighbourhood.
The East Abhiramapuram streets which had been dug up to lay Metrowater pipes and then closed but not been relaid were flooded and slushy. In some places the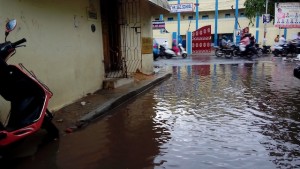 water stagnated for many hours.
The rain had been steady at about 4 pm and fizzled out after 5 p.m.
Water logging was seen on Muthukrishnan Street, Santhome and elsewhere, filth and garbage was seen spread out on the road after the rains on 7th Trust Cross Street, Mandaveli.
The Chennai Corporation ground on South Canal Bank Road that runs alongside the popular Alphonsa play ground resembled a largepond after the showers – filed with rainwater.
Vehicles moved slowly on the flooded Karaneeswarar Pagoda Steert in Mylapore.
Rainwater was seen stagnating on Papanasam Sivan Salai, San Thome.
Photos featured here are – of the Corporation playground on St Mary's Road. And, scene in front of St Anthony's Girls School, Madha Church Road.