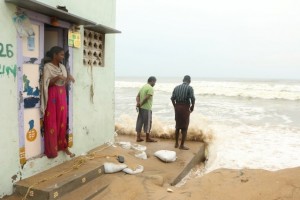 Seawater is lashing the coast of Srinivasapuram, in the Foreshore Estate area and the waves are moving in by over 10metres say residents here. This has happened the past few days and could be due to climatic conditions.
Similar development has taken place on the coast down the East Coast Road, south of the city.
Waves were seen lashing against the walls and steps of many small houses built here in Srininivasapuram.
Many people who rent houses here live in spaces built closer to the shore; civic agencies do not check the proliferation which is also exposed to danger from the sea.