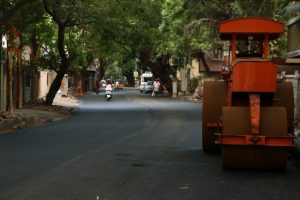 Dr Ranga Road is being relaid. This morning, the road rollers were  driven out of the parking lot to continue the work.
This busy road offers a link from Alwarpet to the heart of Mylapore.
It is not clear if the road was scraped and the relaying work was then carried out.
In recent times, contract teams have relaid roads and streets without scraping the old portion; consequently, the height of the road/street is raised and over time, the level of the street/road is higher than ground level of houses and apartments.
So when it rains, floodwater runs inside and floods the campuses.
If you witness roads/streets being relaid without scraping top layer, challenge the contractor and alert Chennai Corporation.