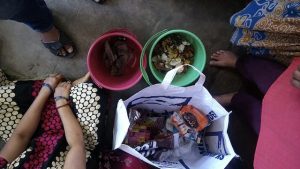 Kuppams may well show the lead in garbage source segregation. And that lead may well come from Nochinagar in Nochikuppam off San Thome, a seaside colony.
The Light House wing of Chennai Trekking Club (CTC) who has been doing much spadework here launched the campaign this Sunday morning. Yesterday, some 120 households were given green and red buckets in which to store their waste.
Mylapore's MLA, R. Natraj formally launched the campaign.
Volunteers worked through yesterday to get the system in place despite a delay in the shipment of the buckets.
They said that there are 162 houses here but many of the rest are not inhabited.
Posters on source segregation have also been stuck on the doors of each house in the colony.
The local area AEE of Chennai Corporation and Conservancy Inspector Sridhar met the volunteers at the burial ground in Mylapore ( behind AIR campus) and a small section of it is to be used as a composting yard, says volunteer Ashok Rajendran.
Meanwhile RamKy, the private garbage collection agency visited the nagar and cleaned up the public spaces. Volunteers have trained conservancy workers in Nochi Nagar on door to door collection and in processing the segregated waste. They were also introduced to senior residents in the nagar.