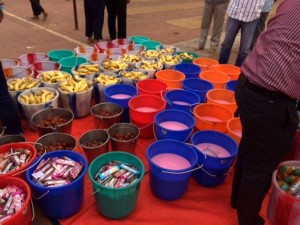 Members of the Sufi Dar community which has its prayer and meditation space off Dr. Radhakrishnan Salai, Mylapore have been distributing snacks to the Muslims at the Wallajah Mosque in Triplicane during the Ramzan period.
They transport the snacks by van to this mosque every evening and personally distribute the snacks to the community when it sits down after evening prayer, to break the fast of the day.
On Friday evening, the volunteers shared kanji, rose milk, dates, bananas, water and mango juice.
These volunteers from Sufi Dar are mainly Sindhis and some Hindus. At the Sufi Dar place, all religions have a space and all Indian festivals are celebrated here.