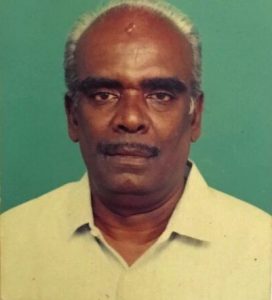 K. Prakasam passed away on July 7. He was a resident of 105, 4th Street, Karpagam Avenue, San Thome.
His son, Gopinath writes a few words about him.
K. Prakasam was born on May 8, 1936. He joined SBI at the age of 18 in the Chitoor branch. He went to work, thereafter, in various branches in south India. He worked at the Mount Road branch for a very long time till his retirement in 1996. He was a State bank person all through his life and the bank was his family.
Prakasam was a cricketer and had represented State bank of India for many years.
Contact his family at 24950556, 9820272834.
V. C. Kamala passed away on July 7 at her son's residence at Abhiramapuram. She was aged 95 years. She was the wife of Late Sumaithangi Krishnaswami Iyengar. Contact her family at 24980406, 9840780406.
G. Viswanathan, also known as Bombay Nathan, passed away on July 13. He was 75 years old. He was a resident of 15/7, Aditya Apartments, Ranga Road, Mylapore.
G. Sivakumar, a resident of Mylapore for about 22 years, passed away on July 14. He was 48 years old.
Family resides at 5D, 6th Cross Street, CIT Colony, Mylapore. Contact them at 24982525, 9444959595.