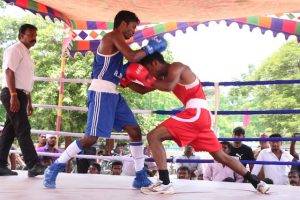 The centre of the Chennai Corporation playground at the far end of R. K. Mutt Road in R A Puram was seeing some pulsating action on Saturday.
In the ring, were boxes taking part in a locally-hosted tourney.
The 3rd M.S.I.Arun Kumar Memorial state-level ( for men)  senior boxing championship was held here in a specially mounted ring in the ground. The area was fitted with lights and a small crowd of players and onlookers watched the bouts as they rolled into the night.
Foot ball and boxing games are held more regularly at this playground.
The tourney contact is Muthu 9500188438.