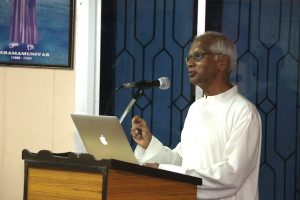 Where was the San Thome College run by the Jesuits located? What subjects did it teach? Was it only for priests or was it open to people of this area?
These are questions that Fr Anand Amaladass raised in his talk ' Jesuits in Chennai' delivered on Saturday, August 20 at the Dhayana Ashram in Mandavelipakkam.
The talk was part of the annual Madras Week celebrations and was hosted by the Jesuit-run Dhyana Ashram.
Earlier, Fr Amaladass spoke on ' Architecture of Churches' focused on city churches, on Friday evening here.