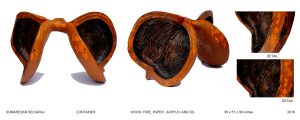 LOCAL ARTISTS EXHIBIT – InKo Centre has organised an exhibition, ' Art Connect',  that showcases the work of 10 Chennai-based artists – painters, ceramic and installation artists. The Participation artists are Benitha Percival, Mani, Gukanraj, Potrarasan, Gurunathan, Vasantha Kumaran, Kasa Vinaykumar, Vijay Pichuman, Kumaresan Selvaraj and A Vijayakumar. The exhibition will remain open from Aug 20 to Sep 18. For further information, call 24361224; or e-mail: enquiries@inkocentre.org. At The Gallery @ InKo Center, 18, Adyar Club Gate Road, Alwarpet.
PAINTINGS FROM GUJARAT – Shakthi is a collection of Mata ni Pachedi paintings by Sanjay Manubhai Chitara, a leading exponent of the art form from Gujarat. Mata ni Pachedi, a tribal art form created by the Vaghari community of Gujarat, pays homage to the Mother Goddess, often portrayed as the nurturer and protector of the weak. These paintings are created using natural dyes on cotton fabrics, that form the backdrop for temples and shrines.
Till Aug 27. At Vinnyasa Premier Art Gallery, 21/11, 1st Main Road, C. I. T. Colony, Mylapore. Ph: 24982515.