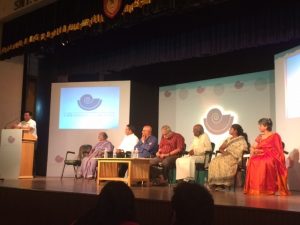 Six city-based people were decorated with the annual ' Champions of Chennai' award on Wednesday evening at a warm function at Sivagami Petachi Auditorium, Alwarpet.
This event comes on the eve  of  the annual Madras Day celebrations.
They were theatreperson N. Muthuswamy of Koothu-p-pattarai, Vidya Reddy of Thulir, which works in the are of sexual abuse of children, the heads of Thakkar Bapa Vidyalaya, T. Nagar where poor and disadvantaged youths are given life skills, S. Ramakrishnan,  a sports mechanis-analytics expert whose company works mainly in cricket, the matron-nurse C N Lakshmi of Cancer Institute who has been a nurse for over 50 years and Prof. Ashok Jhunjhunwala of IIT-Madras, who has incubated many novel projects with entrepreneurs and is currently working in the areas of solar energy and electric vehicles.
Each of these have made significant contribution in their fields, as service, entrepreneurship or institution and community building.
T. N. Manoharan, Canara Bank non-executive chairman was the chief guest and trainer-activist-motivational speaker Raja Krishnamoorthy was also a guest who delivered a special address.
The awards are instituted by the Mylapore-based KSA Trust which is run by a group of chartered accountants who work out of a Luz office.
On this occasion, a special, smartly-designed book which features the winners' life and work, written in English and in Thamizh was released and copies given to all the guests.
K. Kalyanasundarm, managing trustee of KSA Trust says that his team is ready to share their experiences of choosing the winners and conducting such an event with those who wish to honour people in a similar fashion elsewhere.
Contact – Kalyanasundaram & Associates, Chartered Accountants
Mobile: +91 98410 88390
31/14, Krishnaswamy Avenue, Luz, Mylapore, Chennai – 600004