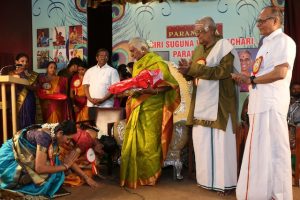 Monday evening was a time to remember for a host of Carnatic music artistes and students when they got together to celebrate their guru, Suguna Varadachari.
This event was hosted by Parampara as an occasion to remember Suguna's guru, Musiri Subramaniam and herself.
Guests included arts promoter V V Sundaram and guru P S Narayanaswamy.
Two concerts were held on Monday, at Raga Sudha Hall, Luz and two more will be held on Tuesday evening – by sishyas of Suguna Varadachari who resides in R A Puram.