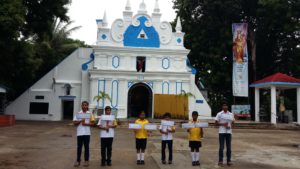 As a part of International School Award (ISA), the students of Calibre Academy International School, Alwarpet celebrated 'Monuments Week' from Aug 31 to Sep 7.
10 students from primary and high school got a chance to learn about monuments all over the world by watching a presentation and building models of the Taj Mahal, Qutub Minar, Leaning Tower of Pisa and the Pyramids at Giza. They also visited the 500 year old Luz Church, took an oath to safeguard all the heritage monuments by holding placards with slogans and talked about how to preserve these monuments for future generations.
The school is located at 28, Seethammal Road, Alwarpet. Ph: 42658551.