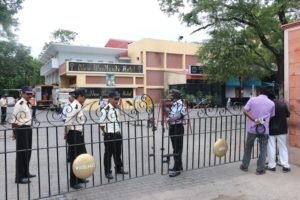 A petrol soaked missile and stones were flung into the campus of Hotel Woodlands on Dr R K Salai early this morning.
The ice cream parlour in the campus was affected; glass panes were shattered and the wall was blackened.
It is said some activists left a note saying the attack was in response to the attacks on Tamils in Karnataka during the protests there linked to the Cauvery river water sharing issue.
At 11 a.m., the hotel gates were secured by hotel security but they allowed passage to guests. There was no sign of city police presence.