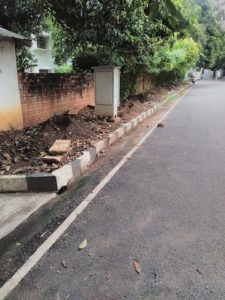 Workers of Chennai Corporation have in recent times been cleaning the storm water drains in the neighbourhood.
But they seem to carry on with a senseless practice – dumping the silt and waste on the roadside or on sidewalks which may nor may not be cleared by other workers later.
In most cases, the silt dries up or is washed away by short spells of rain. Much goes back into the drains and the whole effort is nullified.
Residents say that the silt pollutes the air and stinks.
This photo shows the scene of silt dumped on an unfinished pavement on Boat Club Road. The photo was shared by V. N. Subramanian of St. Marys Road