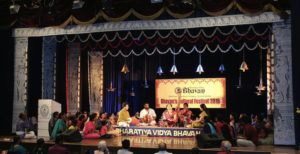 Bharatiya Vidya Bhavan's Chennai kendra launched its annual Cultural Festival on Sunday, Nov.20 evening at its auditorium on East Mada Street, Mylapore. And it was a rousing launch –  the hall was packed, with some 500 people and the seats in the lobby and outside were filled too.
Artistes Vishaka Hari and Gayatri Venkataraghavan were decorated with awards by the guest of the day – Infosys chairman R Seshasayee.
The first recital of this fest was a Harikatha recital by the popular artiste Vishaka Hari; she performed to a full house.
The music fest is on till mid-December at this venue and open to all. Admission is free.