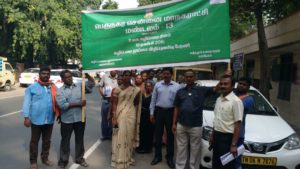 Assistant commissioner of Corporation Zone 13 – B.V. Babu, and several residents of R. K. Nagar, Mandaveli participated in a rally on Saturday, Nov 19 to mark 'World Toilet Day'.
Babu made frequent stops to explain the importance of using toilets and also assured the residents that steps will be taken to set up more eco-friendly and easy to use toilets.
He also talked about how sanitation, or the lack of it, can make a difference in the residents' lives.