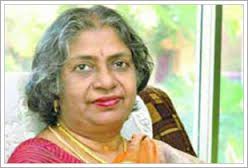 Renowned Carnatic music scholar and voice culture expert, Dr. S. A. K. Durga passed away on November 19. She was a resident of Mylapore. She was 76.
Dr Durga was a former professor emeritus at the University of Madras, a musicologist and ethnomusicologist.
Dr. S. A. Kumari Durga, a native of Kumbakonam in Tamil Nadu hailed from a  family steeped in Carnatic music and the arts. She started learning music from her pre-teen years, her mother, a Harikatha artiste being her first teacher.  Later, she was a student of the well known artistes, T. Viswanathan and M. Balamuralikrishna. She also learnt Hindustani music.
She went on to study voice culture at the University of Madras and physiology under ENT experts, Dr. M. S. Venkataraman and Dr. S. Ramasamy.
Dr Durga taught at the Department of Music at the University of Madras and continued her research on voice culture. Her area of doctoral research was on ethnomusicology; these studies were undertaken at the Wesleyan University, USA.
She continued her academic study in the USA, and her post-doctoral studies, done at Yale University was a comparative study of Gregorian and Vedic chants, and Thevaram hymns.
Dr. Durga served as the professor emeritus of the Department of Indian Music at the University of Madras for four years and then founded the Centre of Ethnomusicology in this city and was its director.
She presented academic papers at conferences in India and abroad, was honoured with awards and guided many students of the performing arts in voice culture and in music studies.
She is survived by her brother S. A. Murali Prasad.
Contact phone numbers – 98400 92378, 98400 38741.