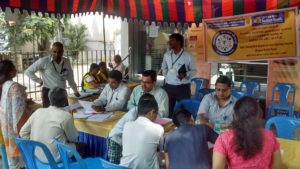 A camp was held by Indian Bank, Mylapore this past weekend to encourage people who don't have bank accounts to open one.
The assistant general manager of the bank T. Dhanaraj says, "We opened zero balance accounts for people at this camp. A few of us are also going door to door to Nochi kuppam and other areas to encourage all residents above the age of 14 to open these accounts. We get the application form filled at their home with their aadhar card and two photographs. We also provide them with the Rupay card so that most of their transactions can be cashless".
The camp will continue at the bank's premises at North Mada Street, Mylapore till the end of this week.