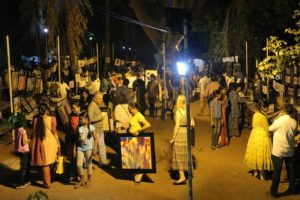 The second edition os Art Mart, a community of artists showing their works in a public space like Nageswara Rao Park in Luz went home on Sunday night with a new experience.
For, for some 60% of the 72 artists who were taking part in Art Mart, this was a first time experience.
Setting up shop with basics, showcasing their best, interacting with colleague-artists and with the public and speaking of their art was all new to many of them and going by the feedback, they seem to have enjoyed the experience.
Water colors, abstract, figurative, new-tech panorama…..there were all kinds of art streams on show. Though the mid-day heat kept off many people from the stalls set across a section of this park, badly affected by cyclone Vardah the crowd stream increased in the evening.
The show was curated by artist Ganapathy Subramaniam;there were also a few workshops.
Many artists were also happy that there were also some business enquiries.
The show, from 8 am to 8pm was supported by Chennai Corporation and Mylapore Times.