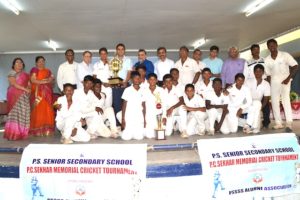 St. Bede's cricket team was decorated with the trophy for the winners of the annual P. C. Sekhar Memorial cricket tourney for under-14 school players hosted by the P S Senior School Alumni Association.
The event was held at the school campus on Monday afternoon. The chief guest was India A player Vidyut Sivaramakrishnan. He also plays in the IPL.
The Chettinad Vidyashram team was the runner-up.
Present at the prize distribution event were A. N. Radhakrishnan, school correspondent, school principal Lakshmi Srinivasan and her two deputies, R. Sivakumar and Revathy Parameswaran. and Krishnan Hariharan, head of the P. S. Senior Alumni Association.
Special prizes were also given to the following players – Manav Parakh ( best batsman – St Bede's); Haniel Steve Delwyn ( best bowler – Don Bosco, Egmore); Sri Abisek ( best batsman in the final, St Bede's); Nishant Kumar ( best player of the tourney, Chettinad Vidyashram); Anirudh Seshadri ( promising player of the tourney, P. S. Senior)