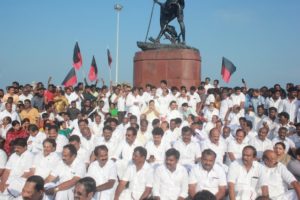 The DMK party resorted to a fast on the Marina around Gandhi statue to protest against the developments inside the TN state Assembly in the confidence vote session on Feb.18.
The DMK MLAs led by Leader of the Opposition, M K Stalin sat around the statue and soon, hundreds of party cadres crowded around them.
Traffic flow was affected for some time.
Police quickly picked up all the protestors and detained them at a private hall that evening. Cases have been registered for unlawful assembly, against the DMK MLAs.
There was a ruckus inside the Assembly that morning and DMK MLAs were accused to stirring up violence. They were evicted, the Opposition walked out and the AIADMK party led by chief minister Edappadi Palaniswami won the vote comfortably.
The DMK had sought a secret vote on the confidence motion but the Speaker of the House turned it down.