Prakash. S. R., a resident of Mund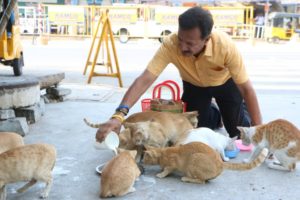 agakanni Amman Koil Street, Mylapore has been taking care of cats  in his area for more than 18 years. Rain or shine, he is there, with his bag of oats and milk to feed them.
Prakash spends about three hours everyday feeding more than 60 cats at his street, behind Navasakthi Vinayagar Temple at Luz Church Road and inside and outside Sri Kapali Temple, Mylapore. And thats not all. He also takes them to the doctor if they are sick.
He says, "I used to work for the Railways. About three years ago I retired so that I could spend more time with these cats. I use most of my pension income to feed these cats".
When he first started, he was the only one doing this but he has since been joined by several volunteers. 'Many women have joined me in my effort", he says, "The auto drivers at the auto stand next to the temple also contribute whenever they can', he adds.
Once a month, he buys about 50 kilos of fruits and gives it to the cows at Sri Kapali Temple, Mylapore. He has also rescued cats several times.
To contribute to this cause call him at 9884008480.