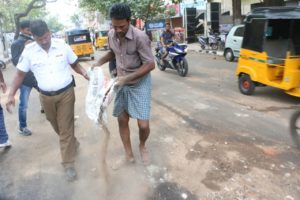 A oil spill on Kutchery Road early this morning caused many minor accidents as two-wheeler riders skidded down this stretch.
The oil stains, some large and some in pools could be seen in large parts from the Police Station end to Mundagakanni Amman Temple Road end.
Good Samaritans of the area threw and spread sand and mud on the spilled oil to save further accidents.
Local residents were not aware who caused this spill.