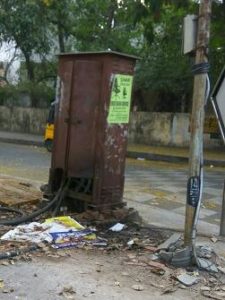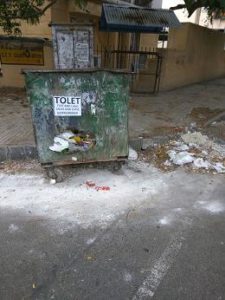 At C. I. T. Colony, Mylapore, the residents are frustrated. Despite repeated appeals to the civic authorities to clean the garbage and change the bins, no action has been taken.
Says Ramdas Naik, a resident and a committee member of the local association there, "We have two main roads and 6 cross streets here. There are 8 bins all over the locality and all of them are broken with garbage overflowing from the sides. After cyclone Vardah, the branches that fell damaged the pavements too. We have appealed to several authorities but nothing has changed".
In addition to that, people use the junction of Bishop Wallers Road and 2nd Main Road as a public urinal (seen in the picture on the left). Road signs are broken and taxis, cars and unauthorized vehicles are always parked here on the street, he adds.
The association is looking for volunteers to help them tackle these issues. Those interested can contact Ramdas at 9282107513.