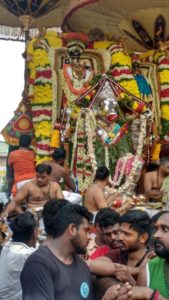 The silver kavacham on the Adikara Nandi is a 100 years old. It was first donated in Oct 1917 by T. K. Kumaraswami Bhattar, a resident of Ponnambalam Vaidyar Street, Mylapore.
It took about five years to make this kavacham and cost Rs. 48000, says Murali. P, the caretaker of this kavacham now. Silver bars were melted to make this kavacham which has been in our family for three generations, adds Murali.
On Apr. 3 night, a special pooja was done by Murali and his extended family. 100 plates of fruits, coconuts, sugar, dates, dry fruits and other items were presented as naivedyam to Lord Nandi.
To honour Murali and his extended family, the first deepa aradhanai done inside the temple after Lord Kapaleeshwarar is mounted on Adikara Nandi is done in their name.