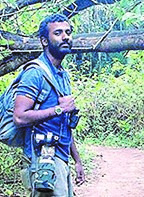 Wildlife enthusiast Surya Ramachandran has released a book titled – Photographic Field Guide – Wildlife in Central India, in association with David Raju.
Surya hails from Mylapore, and with field experience in many nature parks of the country, is a full-time naturalist. He has trained wildlife guides on the invitation of the Madhya Pradesh forest department and worked on tourism projects for the Sunderbans. Surya was a runner up for the TOFT/Sanctuary Asia Lodge Naturalist of the Year award in 2016.
This book is a collection of the duo's combined 14 years of experience over various explorations in the central region.
Published by Notion Press. Available online. Priced at Rs. 1200.